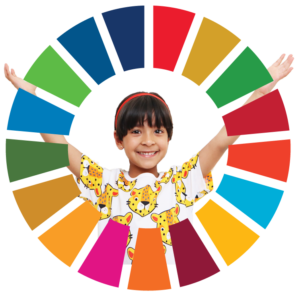 Moksha Roy BCyA has been the world's youngest sustainability advocate who started volunteering for United Nations Global Goals initiatives from the age of 3.
She is aware of the 17 United Nations Global Goals and deeply cares about the natural world. She makes every effort to understand the interdependence of human lives across the world and ensures that her actions can have positive impact on the planet and human lives no matter where they live.
Moksha is actively pursuing campaigns to help the world meet the 17 Global Goals and has already started influencing government policy on integrating the UN Global Goals in the national curriculum, both in the UK and abroad. Her efforts have garnered the support of several world leaders i.e. Presidents and Prime ministers from several nations including the UK. Impact of her other initiatives can be found on her campaigns page.
Young as she is, Moksha thinks every child is a Global Goals hero if they can do small things in their own lives and that can have a much bigger impact on the planet and its people.
Moksha encourages everyone to read and follow the 170 simple actions proposed by the United Nations in our everyday lives that can help us combat climate change and all other major global issues.

Through this website Moksha shares campaigns, stories, letters, drawings, photos and videos of everything she cares about.
Selective press links